CASTLE CREMA
Indulge in luxury with CASTLE CREMA Polished Porcelain Tiles. Each box contains 6 tiles, covering an area of 11.64 sq feet. Perfect for floors, walls, and backsplashes, these tiles offer a harmonious blend of timeless design and enduring quality, making them a stunning choice for any space.
Call us
Description
Elevate Your Space with CASTLE CREMA Polished Porcelain Tiles
 Timeless Elegance, Modern Appeal Discover the perfect blend of timeless elegance and modern appeal with our CASTLE CREMA Polished Porcelain Tiles. Crafted to perfection, these tiles redefine luxury in every inch. The 300 x 600 MM size is meticulously designed for versatility, making them ideal for bathroom walls, kitchen floors, and captivating backsplashes. The polished finish accentuates their allure, casting a spell of sophistication and opulence in any space they adorn.
 Unparalleled Quality for Your Floors Transform your floors into a canvas of sophistication with CASTLE CREMA Polished Porcelain Tiles.
The 9.0 MM thickness ensures durability, making them suitable for high-traffic areas like kitchens. The tiles' exquisite Porcelain_12x24 design adds depth and character, creating a floor that speaks volumes about your refined taste and appreciation for quality. Their polished surface reflects light, creating an illusion of space and adding brightness to your kitchen or bathroom. Whether you're designing a luxurious bathroom sanctuary or a sleek kitchen, these tiles become the epitome of your style, leaving a lasting impression on everyone who steps in.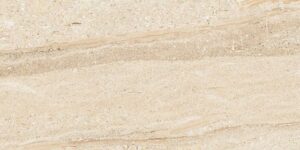 Specifications:
| Material | Porcelain |
| --- | --- |
| Size | 300 x 600 MM |
| Finish | Polished |
| Thickness | 9.0 MM |
| Weight per Box | 51.33 lbs |
| Pieces per Box | 6 |
| Area per Box | 11.64 sq feet |
| Applicable On | Floor, Wall, Backsplash |