DIAZA WHITE POLISHED
Elevate your home with DIAZA WHITE POLISHED Porcelain Tiles. These 300 x 600 MM tiles are not just flooring; they're a statement of sophistication. With a polished finish, these tiles reflect light beautifully, making your spaces feel more expansive. Perfect for walls, floors, and backsplashes, their versatility knows no bounds. Each box contains 6 tiles, covering an area of 11.64 sq feet.
Call us
Description
Elevate Your Space with DIAZA WHITE POLISHED Porcelain Tiles
 Aesthetic Brilliance for Every Room Step into a realm of timeless elegance with our DIAZA WHITE POLISHED Porcelain Tiles. Crafted to perfection, these tiles bring an aura of sophistication to your spaces. Whether you're revamping your bathroom, redesigning your kitchen walls, or enhancing your floors, these tiles offer unmatched aesthetic brilliance. The 300 x 600 MM size provides versatility, allowing you to explore various design possibilities. The polished finish adds a luxurious touch, making your spaces shine with opulence.
Polished Perfection for Bathrooms and Kitchens DIAZA WHITE POLISHED tiles are designed to transform your bathroom and kitchen into exquisite sanctuaries.
The polished surface reflects light, creating an illusion of space, ideal for smaller rooms. Their 9.0 MM thickness ensures durability, making them suitable for both walls and floors. Elevate your bathroom walls with a sleek, modern design or create a stunning kitchen backsplash that becomes the focal point of your home. These tiles offer the perfect balance between functionality and style.
 Unleash Creativity with Versatile Designs Explore endless design possibilities with DIAZA WHITE POLISHED Porcelain Tiles.
Their subtle yet luxurious texture complements various interior styles, from contemporary to classic. Whether you're aiming for a minimalist bathroom or a rustic kitchen, these tiles provide a canvas for your creativity. Enhance your home's aesthetic appeal and create spaces that resonate with your style and personality.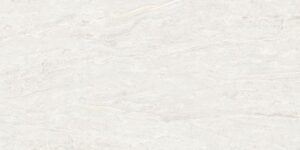 Specifications:
| Material | Porcelain |
| --- | --- |
| Size | 300 x 600 MM |
| Finish | Polished |
| Thickness | 9.0 MM |
| Weight per Box | 51.33 lbs |
| Pieces per Box | 6 |
| Area per Box | 11.64 sq feet |
| Applicable On | Floor, Wall, Backsplash |