ONICE GREGIO
Enhance your space with ONICE GREGIO Porcelain Tiles. These 300 x 600 MM polished tiles, capturing the essence of natural onyx, add opulent elegance to your floors, walls, and backsplashes. Each box contains 6 tiles, weighing 51.33 lbs, covering 11.64 sq feet.
Call us
Description
Elevate Your Space with ONICE GRIGIO Porcelain Tiles
Paragraph 1: Embrace Opulence in Every Detail Indulge in the luxurious ambiance of ONICE GREGIO Porcelain Tiles. Transform your space into a haven of elegance with these 300 x 600 MM tiles. The polished finish exudes sophistication, making them perfect for bathroom floors, kitchen walls, and backsplashes. Crafted from high-quality porcelain, these tiles offer a seamless blend of beauty and durability. Let the gleaming surface of ONICE GRIGIO tiles elevate your interiors, reflecting your taste for timeless aesthetics.
Captivating Tile Design The ONICE GREGIO tiles boast a captivating design reminiscent of natural onyx, adding a touch of grandeur to any room.
The polished finish enhances the stone-like veining, creating a mesmerizing play of light and shadow. Whether you're redesigning your bathroom or enhancing your kitchen walls, these tiles become the focal point, enhancing the overall allure of your space. Immerse yourself in the allure of natural beauty, curated to perfection in each tile.
 Versatile Elegance for Every Space With a thickness of 9.0 MM, these porcelain tiles offer both style and substance.
Each box, weighing 51.33 lbs, contains 6 tiles, covering an area of 11.64 sq feet. Their versatility extends from floors to walls and backsplashes, allowing you to create a cohesive look throughout your home. The ONICE GREGIO tiles bring opulence to your fingertips, providing a timeless backdrop for your interior decor visions.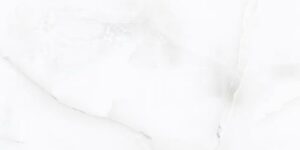 Specifications:
| Material | Porcelain |
| --- | --- |
| Size | 300 x 600 MM |
| Finish | Polished |
| Thickness | 9.0 MM |
| Weight per Box | 51.33 lbs |
| Pieces per Box | 6 |
| Area per Box | 11.64 sq feet |
| Applicable On | Floor, Wall, Backsplash |